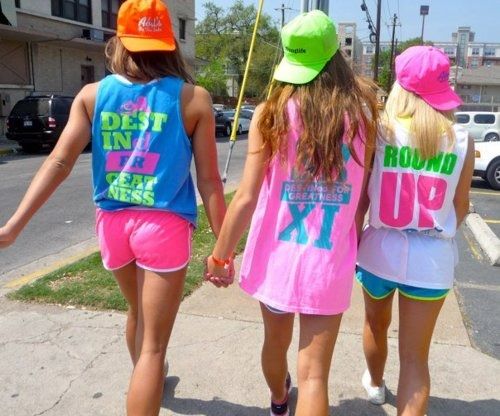 As much as possible, I want to help you in a way on giving out an idea on which right to wear on certain day or season for you to be updated and be hip on today's fashion, as much as I do.. These days, as I've noticed, a lot of young ladies are fond of wearing colors than to the classic and usual ones. Because maybe of the summer season? Yes! that might be possible but for me and to where I am right now where the sun goes high 24/7 – I must say, these colorful fashion finds are the best, really, to wear. Because it can gives this light looking to whom wearing it.. look on those gels on top they were like having a fun day, right? by simply wearing these type of styling. You can do as long as long you can make yourself comfortable wearing it..
An if you're not that confident on wearing these colors. I think casual active wear is fine on you. Others called it normcore fashion – and I'll explain about it on my next post on what this normcore fashion all about, hence better to tune in here to be inform. Because this type of styling are better to those ladies who're getting on the mid-age who prefers to wear kinda like casual wearing than to those go-to-wear finds.
You can actually choose in either styling you wanted to pull off but for me the second one is better because it's kind light on eyes plus you can wear the styling off whether to casual and daily grind you have..